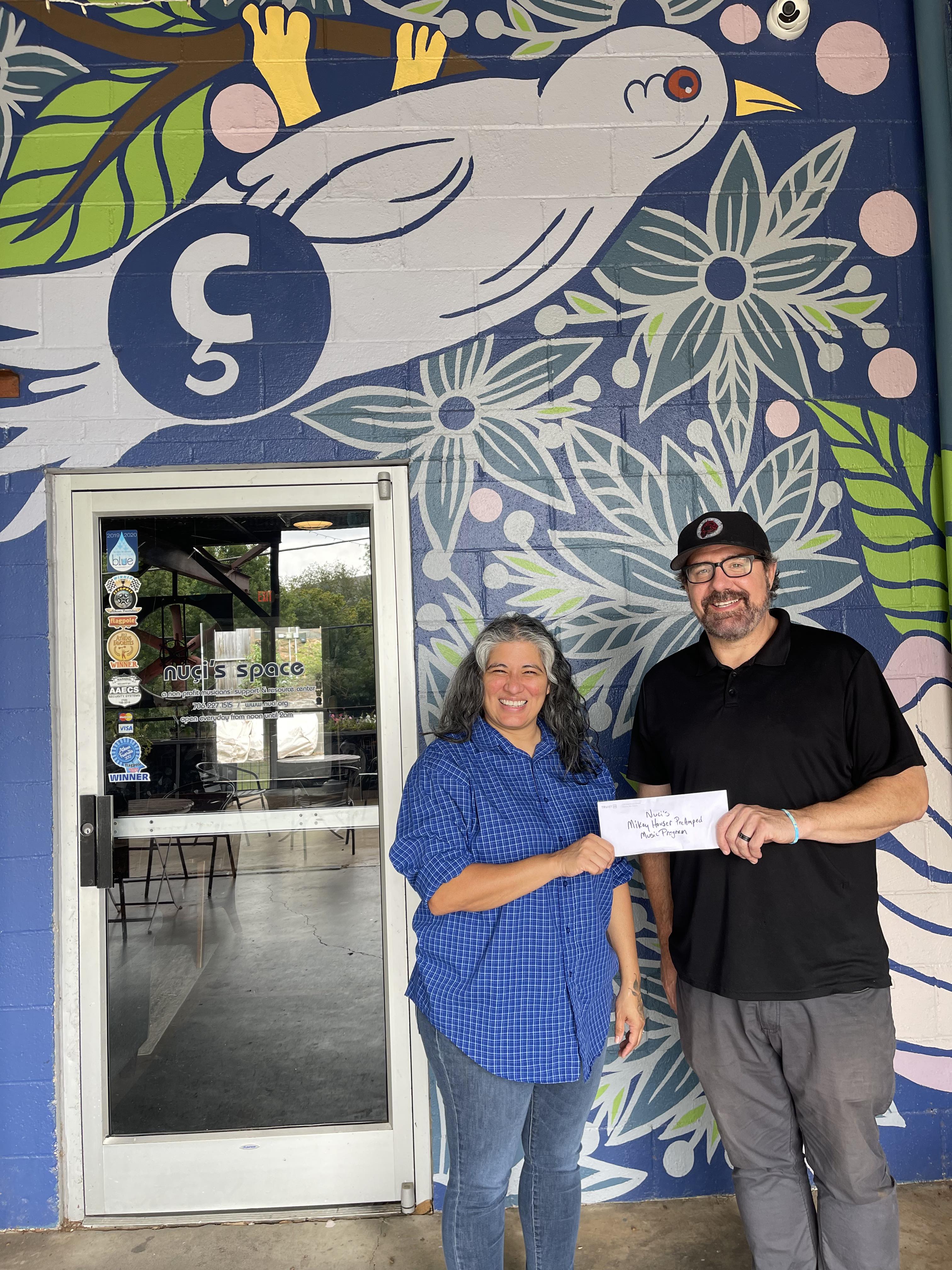 September 14, 2023- ATHENS, GA - The Sam Holt Band raised over $4,000 for the Pre-Amped: Michael Houser Music Program at Nuçi's Space through the sale of posters and t-shirts designed by the talented JT Lucchessi of Home Team Graphics.
 
The band recently performed three concerts to honor the life, music, and spirit of Michael Houser where they also offered the one-of-a-kind merchandise to support the cause. All proceeds from the sales have been donated in honor of the founding Widespread Panic guitarist. Athens company TSAV donated funds for the program as well.

"We are honored to be able to support the incredible work that Nuci's Space does, and we are grateful to our fans for helping us raise funds and awareness for the Mikey Houser Pre-Amped Music Program," said Sam Holt, the band's lead guitarist and vocalist.
 
Nuci's Space is a non-profit organization in Athens dedicated to providing affordable healthcare for musicians, as well as initiatives to overcome depression, addiction, and other mental health challenges that often affect those in the music industry. The Mikey Houser Pre-Amped Music Program is provided free to 4th and 5th grade elementary school students who show an interest and passion for music. The goal of the program is to introduce elementary school students to musical instruments and music lessons, who otherwise may not have access to music programs. The program is being offered at Alps, JJ Harris, and Fowler Drive Elementary Schools in Athens.
 
"Pre-Amped is a very special program for us! It's such a privilege to be able to nurture the emotional and musical development of young kids at the very beginning of their creative journey. We are so grateful for the opportunity to bring the work of Nuçi's Space to a broader community within Athens. Thank you for your support!" - Alex Dillon, Youth Programs Manager
 
"Nuci's is an incredible resource for Athens' musicians and the larger community. Their participation in the after school programs in the area is just one facet of their good work, and for Michael to be a part of that feels so right. Sam's shows are fantastic and fun celebrations of Michael's music and life. To know all those people are gathering and having a great time each August-well, Michael would have loved that. And having proceeds go to Mikey Houser's Pre-Amped just ices the cake."  - Barbette Houser 
Sam Holt was Houser's guitar tech during his final years with Widespread Panic. After Houser's passing, Sam quickly became a fan favorite, regularly playing with Widespread Panic for entire shows.. In 2002, at Houser's insistence, Holt forged his own path with Atlanta based Outformation, and eventually The Sam Holt Band.